Stainless Steel Ball Valve
The Stainless Steel Ball Valve is a universal product used Industrial and general utility applications. Often used in the food and beverage industries all along the spectrum to the oil and gas industry. This includes industries like Water, Oil, Gas, (WOG) as well as Chemical, Petrochemical, Mining, Construction and Plumbing and other more general utiliy services wherever flow needs to be controlled. Our Stainless Ball Valves are easy to connect to any pipe with their Female NPT Threaded end connections. These SS Ball Valves also searched under the name Ball Valves Stainless Steel, are the industry standard popular for their corrosion resistance and ease of cleaning. Ball Valve Stainless suppliers call for special pricing.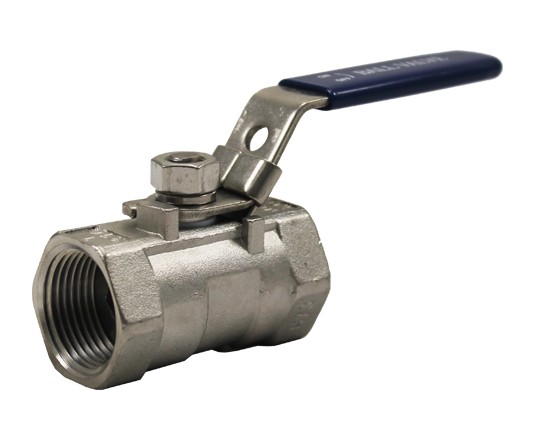 ●  
The Ball Valve Body is made out of One Piece
●  
No joints reduces the chance of leaks, very durable and the most cost effective option
●  
Standard or Reduced Port (Flow is one size less than the pipe it connects to)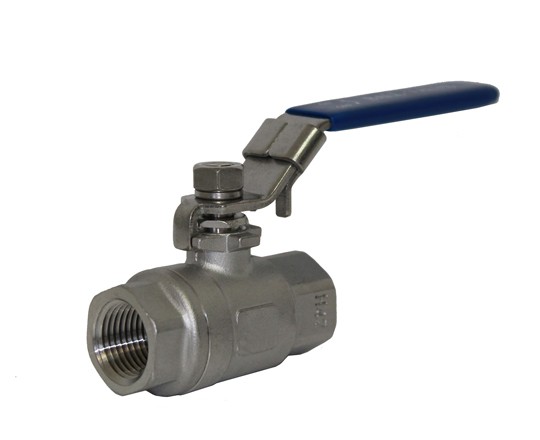 ●  
The Ball Valve Body is made out of Two Pieces
●  
The most popular threaded ball valve (Compact and Heavy versions available)
●  
Full Port or Full Bore Stainless Ball Valve (Pipe ID remains constant)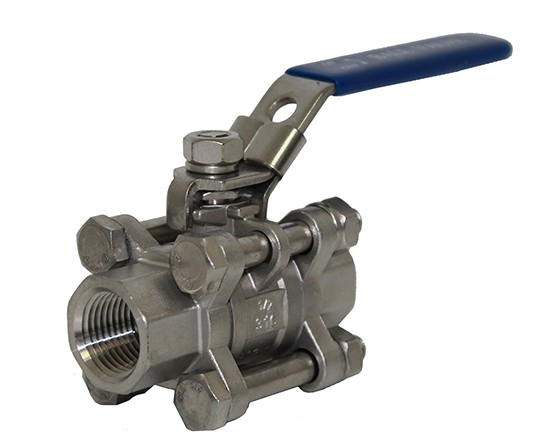 ●  
Ball Valve Body is made out of Three Pieces
● 
Made to be taken apart for cleaning
● 
Full Port or Full Bore Ball Valve (Pipe ID remains constant)
Ball Valve Features & Benefits:
● 1000 PSI (Water,Oil and Gas...WOG)
● Threaded Ball Valve (Female NPT Threads)
● Handle Stem is Blow out Proof
● Handle with Locking Lever Device
● PTFE Seats and Seals
Advantages of Stainless Steel Ball Valves: 
●  Vitually no Drop in Pressure - Flow rate unrestricted by valve.
●  Quick to use - To activate requires a 1/4 of a turn (90 degrees).
●  Virtually no Maintenance cost - Relatively inexpensive to use.
●  Almost no chance of leakage - Ball seals water tight in seat.
●  No Lubrication needed.
Sizing a Threaded Ball Valve: 
● The size of the valve is dependent on the the size of the pipe that the valve will thread into. 
● For Example a 2" Ball Valve will thread onto a 2" Pipe and a 3" ball valve will correspond to a 3" Pipe, and so forth.
Uses Of A Ball Valve: 
1) Used whenever a simple flow "on" or flow "off" is needed.

   ● Ball valves are used if flow needs to be open or shut off. This prevents any spills or leaks when pipes or hoses are disconnected.
2) Used to control flow rates. 
   ● By partially closing or opening the valve flow rate can be regulated. 
Operation:
● A pivoting ball with a hollow bore is rotated with a handle which controls the flow through it.
● When the handle is inline with the valve, then the flow is open.
● When the handle it at a 90 degree angle to the pipe, then flow is shut off.
● The handle only has to be turned 90 Degree's to open flow or to close flow. For this reason it is also called a quarter turn ball valve.
The Difference between One Piece, Two Piece and Three Piece Ball Valves:
1 Piece Ball Valve
● A One Piece Ball Valve is made out of a single piece and therefore has no body joints.
●  Having no body joints generally means that there is less chance of any leakage.
● This valve will have a reduced port, which means the line size will be reduced.
● The simplicity of design makes the one piece a robust option with a lower cost.
● Being Inexpensive they are generally not repaired.
2 Piece Ball Valve
● A Two Piece Ball Valve is made out of two different pieces connected at a body single body joint.
● Having a body joint allows the body to be taken apart and also allows for a larger ball than the 1 piece.
● This Valve is a full port which means the line size will remain constant throughout the length of the valve.
These are the most popular ball valves and can be serviced and repaired. 
3 Piece Ball Valve
● A Three Piece Ball Valve is made out of three separate pieces.
● This allows the valve to be quickly and easily taken apart for cleaning and servicing.
● This is a Full Port Ball Valve with an ID the same size as the pipe it is connected to.
● The 3 piece body design allows you to remove the center porton of the valve containing the ball, while leaving the threaded ends still connected to your application.
 CLICK HERE to Purchase 1 Piece Ball Valves

 CLICK HERE to Purchase 2 Piece Ball Valves

CLICK HERE to Purchase 3 Piece Ball Valves