Also known as Tri-Clamp fittings, our Tri-Clover fittings and valves are manufactured using high grade 304 stainless steel. Tri clamp fittings are primarily preferred for use in commercial breweries, dairy farms, and other food/beverage industries with sanitation standards that need to be met. Both tri-clamp fittings and valves are designed with cleaning in mind. The simplicity in design, and lack of crevices, prevent bacteria and other germs being left behind after regular cleaning.
Sizing a Tri-Clover Fitting
This can be tricky as a lot of people measure the ferrule flange end which gives an oversized result. The fitting is actually sized on the OD of the Tube. Please see the chart below for the size of the ferrule flanged end compared to the Tube OD so that you can choose the correct size. Please note the 1/2" and 3/4" have the same size ferule flange end and so do the 1" and 1.5". Both these sizes will use the same sized clamps, caps and ferrule flange ends.
Tri-Clover (TC) Clamp Sizing Chart: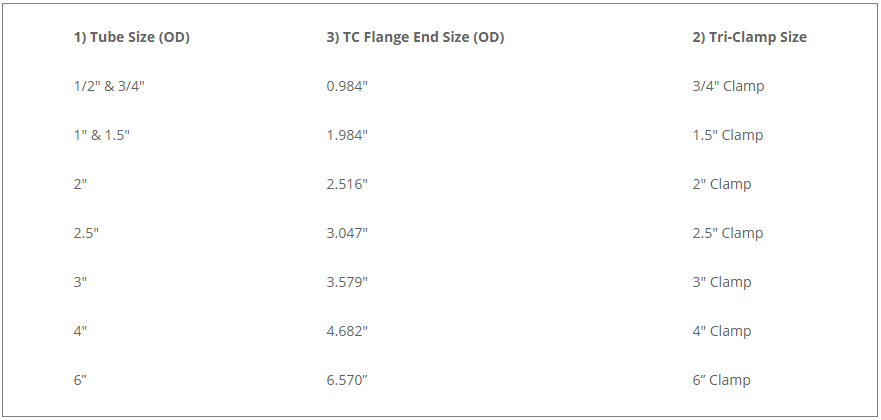 How do you make a Tri-Clover Connection?
In order to make a Tri-Clamp/Tri-Clover connection you need the following:
One Tri-Clover Clamp,
Two TC Fittings (often called Ferrule or Flange ends)
And a TC gasket.
● Every connection together is held together by a TC Clamp. 
● The two ferrule/flange TC ends connect face to face,
● with a gasket in between ensuring a seal.
The two face to face TC ferrules/flanges are covered by a TC Clamp and as one tightens the clamp, it compresses the two flanges to seal on the gasket. The Clamps wing tighten and loosen by means of a wing nut.
The TC fittings used in a sanitary connection can be any combination of two Tri-Clamp end connections like a Ferrule, a Tri-Clover by thread or Hose barb, a Tri-Clover valve, and so forth...
Silicone gaskets are the most suitable gasket for food and beverage applications, including for home brew. They are heat resistant and form a great seal due to their elasticity.
We also carry the EPDM and Teflon (PTFE) gaskets. Teflon has a high tolerance for heat and also for chemically resistance.